I will try to keep this short and informative…
Lasers are simply light that is amplified at a certain light wavelength. Think of the spectrum of visible light. We are able to see different colors based on the wavelength of light that is emitted (red corresponds to 650 nm wavelength, for example).
There are a variety of lasers, each attracts to a certain corresponding color or molecule. You may have heard various names of lasers, but the technology and wavelength is what determines the use of the particular laser.
Common uses of lasers (and lasers used):
1. Vascular lesions, Veins, Hemangiomas (Pulsed Dye Laser, ND:YAG)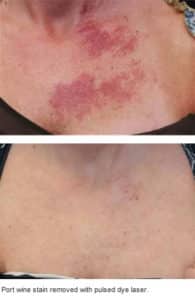 Photo credit: American Academy of Facial Plastic Surgery
2. Hair and Tattoo Removal (Diode or ND:YAG)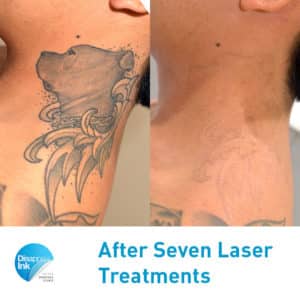 Photo credit: Kingston Laser
3. Fine Wrinkles and Discolorations (Erbium, Carbon Dioxide)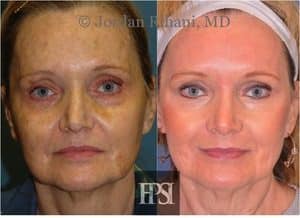 Patients are inundated with brand names and technologies daily – be sure that you are making an informed decision and are given realistic expectations of results. Oftentimes, multiple treatments may be needed for complete resolution of the problem.
About Fractionated CO2 laser resurfacing.
One of the most tried-and-true technologies is Carbon Dioxide (CO2) laser technology. The wavelength of carbon dioxide attracts to water – which is present in the surface cells of our bodies. As a result, CO2 lasers are used for controlled, precise removal of the surface cells. This is a great resurfacing tool – for removal of fine wrinkles and discolorations (or sun spots).
As a way of decreasing down time while still providing results, fractionated laser technology was invented. Think of it as instead of a large column of laser energy, there are hundreds of smaller columns filling that same space, which leaves small spaces of normal tissue in between the resurfaced areas – similar to a checkerboard.
Fractionated CO2 is one of my methods of facial resurfacing performed in my Southlake office along with Dermabrasion and Chemical Peeling. I am currently using the Phoenix Laser (Fractionated CO2) on the face as well as hands for fine wrinkles and discolorations. Check out the Laser Resurfacing page for more information.
Please call or email me with any questions or to set up your complimentary resurfacing consultation.
Best,
Jordan Rihani, MD
drrihani@facialplasticsurgeryinstitute.com